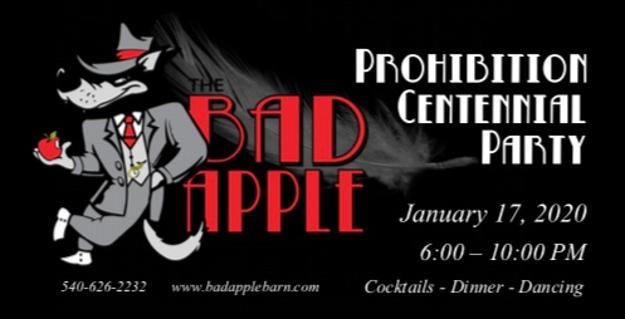 On January 17, 1920, our nation awoke to a nation-wide prohibition on alcohol which would span the next 13 years. Come celebrate the well intentioned, great mistake that paved the way for speakeasies, moonshine makers, rum runners and gangsters!
Cocktail Hour 6-7pm: Included in your ticket price, enjoy wine tastings and education by our wine maker, as well as a starter cocktail from our bar, made with all Virginia spirits. Also enjoy an array of passed hors d'oeuvres.
Dinner 7-8pm: Three courses beginning with a salad, your choice of entree, and dessert, are all served at your reserved table. Our bar will remain open for wine, beer and cocktail orders.
Dancing 8-10pm: Enjoy live music and dancing with The Dixie Express, as well as another round of passed hors d'oeuvres toward the end of the evening. (Bar remains open until 9:45.)
Entree Options (you will be asked to make your entree selection with your ticket purchase):
Ribeye Steak (cooked to your liking) with Bleu Cheese Sauce
Seafood Fra Diavolo (with Shrimp, Scallops, and Mussels)
Seitan Picatta (Vegetarian- Potato Cake with Creamed Spinach in Lemon Caper Sauce)
Tickets: $100 (tax and gratuity included); $85 when you reserve in advance.
Tickets are available NOW through January 11 at The Bad Apple. Call Peanuts (540) 293-4521 or stop in at The Bad Apple to reserve in advance, and save 15% (through January 4)
Join us for a night of tastings, cocktails, dinner, live music and dancing!
Costumes not required, but very much encouraged!
Doors open at 6:00pm - Event is Sold Out
WARNING: Some GPS navigators are taking people the wrong way. If you're coming from Blacksburg, please CLICK HERE for written directions.