Special Events
We love a party as much (ok, maybe even more) than the next guy! We look forward to throwing one again one day!
Groups
Currently, because of our limited seating, and for the comfort of all of our guests, we are limiting group sizes to 10 right now.
Private Parties
We do not close our restaurant (Thursdays - Saturdays) for private parties (and we don't have a private room). If you're interested in hosting a wedding, or large party, check out our PACKINGHOUSE VENUE. If you'd like something smaller, or perhaps just for a private dinner party on a Thursday, Friday or Saturday, check out HARVEST at Mountain Lake or THE PALISADES.
We will consider private dinners on Mondays - Wednesdays when we are normally closed. If you're interested in that, give us a call.
And consider coming out for one of our parties in the future! Like us on FACEBOOK to get the skinny on what's happening here (and for a special password each week).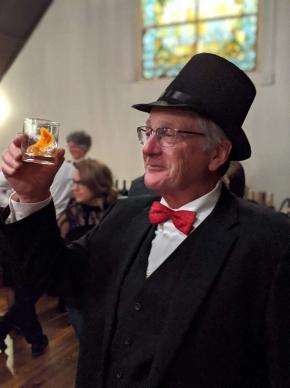 "The Mayor" at our Prohibition Centenial Party, January 2020
© Copyright The Bad Apple