Special Events
We love a party as much (ok, maybe even more) than the next guy! We look forward to throwing one again one day, when it's looking safe to do so. Stay tuned...
Christmas Hours:
We will be closed the week of Christmas (December 20 - December 29). We will re-open for dinner December 30.
New Year's Eve:
Join us for a special four-course dinner on Friday, December 31. NYE isn't complete without some jazzy live music, so our favorite ragtime duo, Ragtime Fred is coming to liven up the stage. Call or message us to make a reservation! Dinner is $75/ person and includes the following:
Cocktail: French 75 (We know. You've been asking for it. Here it is.)
Appetizer: Chef's crawfish dip (pimento dip option for vegetarians) with house-made pita chips
Salad: Mediterranean salad with black eyed peas (for luck)
Entree (choice of one):
Prime rib with shaved horseradish
Crab topped barramundi with a lemon herb sauce
Roasted vegetable risotto
Dessert (choice of one):
Creme brulee
Salted caramel cheesecake
(Non-alcoholic beverages - coffees, teas, sodas - also included)
Groups:
We welcome small groups here. Please be sure to make a reservation ahead of time to let us know how many will be in your party. If that number changes, please let us know as soon as you know. For groups over 12, we do require a deposit which we are happy to credit towards your meal.
Private Parties:
We do not close our restaurant (Thursdays - Sundays) for private parties (and we don't have a private room). If you're interested in hosting a wedding, or large party, check out our PACKINGHOUSE VENUE. If you'd like something smaller, or perhaps just for a private dinner party on a Thursday - Sunday, check out HARVEST at Mountain Lake or THE PALISADES.
And consider coming out for one of our parties in the future! Like us on FACEBOOK to get the skinny on what's happening here.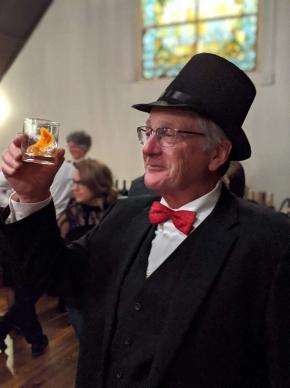 "The Mayor" at our Prohibition Centenial Party, January 2020
© Copyright The Bad Apple