Special Events
We love a party as much (ok, maybe even more) than the next guy! We look forward to throwing one again one day. Stay tuned...
"Pal"entine's Day, Sunday, February 13
LIVE MUSIC * ROSE SANGRIA * SHARABLE TREATS
Palentine's Day, formerly Galentine's Day, is for EVERYONE!!! It's a day to celebrate love among friends. So, bring your pals out to The Bad Apple for some fun. We will be open 4:00 - 8:00 that Sunday.The Billiam Duo (a couple of our favorite pals) will be playing 5:30 - 7:30, so if some fantastic live jazz is your thing, plan accordingly. Reservations are recommended, but not absolutely required. We'll have some specials, but our full bar and dinner menus will also be available.
Valentine's Day, Monday, February 14
Special attention has been paid to the incorporation of aphrodisiacs in every course! Call to make a reservation (540) 626-2232, and be prepared to let us know which entree you would like (we are happy to talk you through our gluten-free and vegetarian selections). Dinner is $50/ person, and includes all four courses. We're also featuring a special Spicy Thai Margarita, with a house-made Thai chili infused honey syrup that evening. We will be open 5:00 - 10:00. Seatings begin at 5:00; last seating 8:00. Reservations required.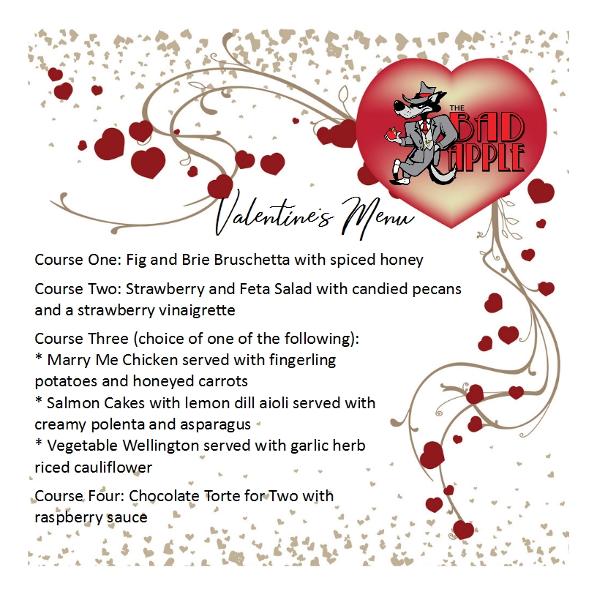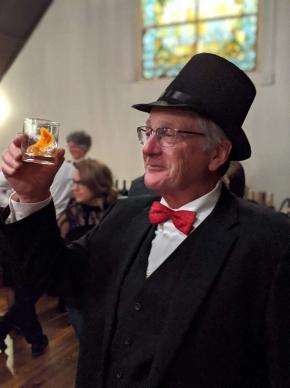 "The Mayor" at our Prohibition Centenial Party, January 2020
Groups:
We welcome small groups here. Please be sure to make a reservation ahead of time to let us know how many will be in your party. If that number changes, please let us know as soon as you know. For groups over 12, we do require a deposit which we are happy to credit towards your meal.
Private Parties:
We do not close our restaurant (Thursdays - Sundays) for private parties (and we don't have a private room). If you're interested in hosting a wedding, or large party, check out our PACKINGHOUSE VENUE. If you'd like something smaller, or perhaps just for a private dinner party on a Thursday - Sunday, check out HARVEST at Mountain Lake or THE PALISADES.
And consider coming out for one of our parties in the future! Like us on FACEBOOK to get the skinny on what's happening here.
© Copyright The Bad Apple